HOW TO PREPARE BEDS WHILE PACKING
How to Disassemble Beds - This usually involves taking the mattress and box spring off the frame, and disassembling the frame by removing the side rails from the headboard and footboard. Wooden side rails generally lift off the head/foot boards by hand. Metal side rails are usually bolted together. After disassembly, simply sleep on the mattress/box spring on the floor until loading day. Bunk beds are a little more complicated, but follow the same principle and disassemble all the components. Figures 9.7 through 9.10 give an example of breaking down a bed.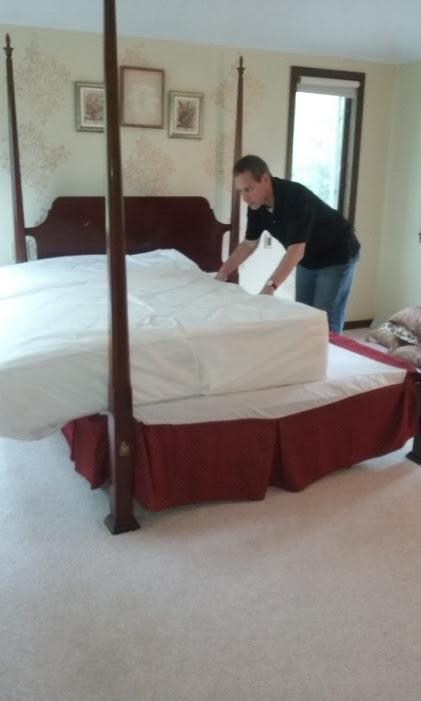 Figure 9.7: Bed prior to disassembly
To disassemble the bed during the packing phase, remove all the blankets and sheets, then lift the mattress and box spring off the bed frame. (Ask a friend to help you with the mattress/box spring).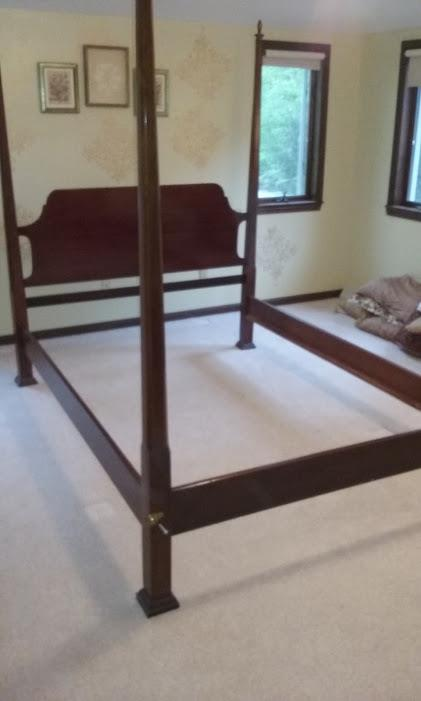 Figure 9.8: Bed frame with Mattress/Box Spring Removed
Once you remove the mattress and box spring, you will have access to the bed frame, including side rails, head board and footboard. Remove the wooden slats from the frame, as shown in Figure 7.13, and bind the slats together with the roll of plastic wrap. Wooden side rails usually lift up and off the head/foot boards by hand. Metal slats are bolted together. Remove the side boards.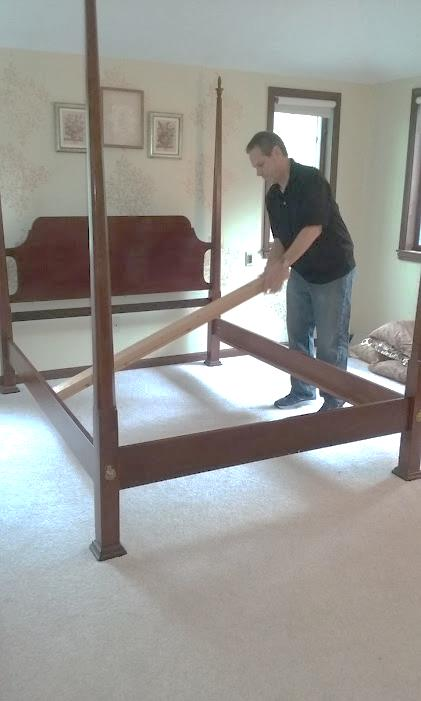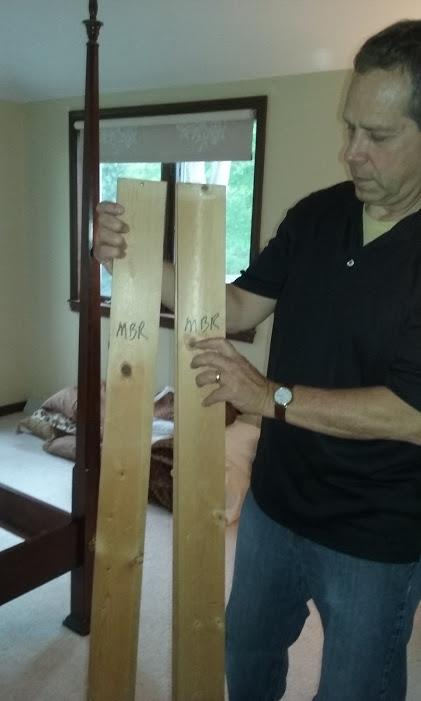 Figure 9.9: Removing Wooden Support Slats
It is helpful to have a friend hold the headboard in place while you lift of the two side boards at the headboard end. Then have your friend hold the footboard while you lift off the side rails at that end. For metal rails, use the appropriate tools from your command center to disassemble.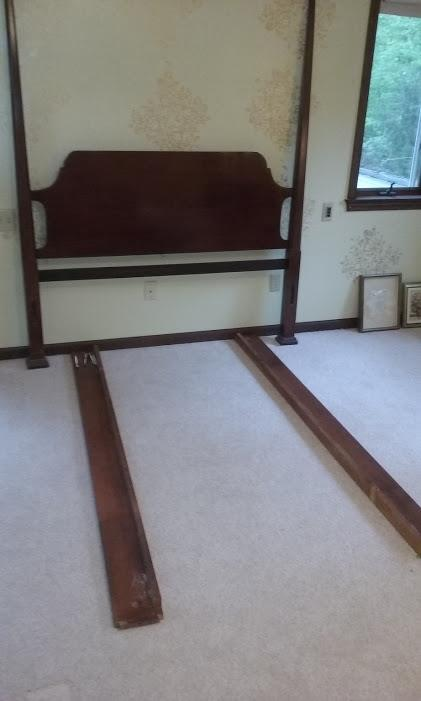 Figure 9.10: Disassembled Bed
This is what it will look like when the bed is completely disassembled. The bed slats, not shown, should be bundled together using the plastic wrap. Also, bundle the two side rails together. The headboard and sideboard will be wrapped in a furniture pad on the truck on loading day. Your Furniture Inventory should account for moving pads for the head/foot boards, and the side rails. Be sure to fill in the Disassemble/Reassemble spreadsheet (TAB 7) for each bed. After the bed is completely disassembled, place the mattress on the box spring on the floor, and put the sheets/blankets back on. You will sleep on the 'floor mattress' until loading day, at which time you will cover the mattress with plastic mattress bags.
You Tube Video Reinforcement: Packing Bed Frames Source:
How to Pack Mattresses & Bedframes
Movers.com
2 min, 27 seconds
Source: Try Moving Yourself! The Complete Self-Moving Guide for a Full Household Move Using U-Haul® Products and Services (2020) John Elie, Author.