How to Pack Your Household
(The following is an excerpt from Chapter 7 of "Try Moving Yourself! The Complete Self-Moving Guide for a Full Household Move using U-Haul Products and Services)
Chapter 7: Packing your Household Goods – Plan Your Time
The Packing phase is a major step in which all of your household belongings will be properly packed into boxes for loading day You will also be "breaking down" furniture, and "servicing" appliances to get ready for move out day. Packing is the most time consuming step in the moving lifecycle. I recommend setting aside 5 full weeks to pack your entire home from basement to attic. If you don't have that amount of time, just alter your packing plan and timeline to fit your schedule. But DON'T make the mistake of thinking that all the packing can be done in one or two days prior to moving day! When I worked for Mayflower, we would send a packing crew of 4 to 6 people to a home and complete packing in one or two days. No packing crew is showing up for your self-move, it is just you and your partner.
Let's briefly review our overall timeline from TAB 10: Key Moving Dates in the Moving Template spreadsheet, Figure 7.1:
| | |
| --- | --- |
| TAB 10: KEY MOVING DATES TIMELINE | |
| Plan Move (Up to 2 Weeks) | Sat, May 23 - Sat, June 6 2020 |
| Begin Packing (Allow 5 Weeks) | Monday, June 8, 2020 |
| Finish Packing Target Date | Saturday, July 11, 2020 |
| | |
| --- | --- |
| Planned Move-Out Date | Friday, July 17, 2020 |
| Move out address - | |
| 21 Pine Street, Buffalo, NY 14221 | |
| | |
| --- | --- |
| Planned Move-In Date | Saturday, July 18, 2020 |
| Move in address - | |
| 100 Main Street, Utica NY 15555 | |
Rental Truck Pick Up Date
Thursday, July 16, 2020
Uhaul Pick Up Address:
Uhaul of South Towns
3120 S. Orchard Park Rd
West Seneca, NY 14224
| | |
| --- | --- |
| Drive from Buffalo to Utica | Friday, July 17, 2020 |
| Hotel Overnight in Utica | Friday evening, July 17 |
Unload in Utica
Saturday, July 18
Return Uhaul truck in Utica
Saturday, July 18
Uhaul Drop Off Address:
Uhaul Drop Off Address:
U-Haul of Utica
430 Lomond Pl
Utica, NY 13502
| | |
| --- | --- |
| Hotel Overnight in Utica | Saturday, July 18 |
| | |
| --- | --- |
| Unpacking Day - Start | Sunday, July 19 |
| Unpacking - Target End | July 31, 2020 |
Figure 7.1: Key Moving Dates
Source: Moving Template Spreadsheet, TAB 10
You just spent two weeks in May planning your move, encompassing all five previous Chapters. According to our timeline, it is now June 8th, and you have given yourself a full month plus a week to pack up you home. During the first week in June, you made a trip to the U-Haul Center and purchased your boxes and packing supplies. Let's stop right there for a minute. You should be feeling really, really good about your situation. By planning a full five weeks for packing, you can approach this a little bit at a time, and not be rushed come truck-loading day. You are way ahead of the game. I can't tell you how many times I have been asked to help friends move, and I show up on loading day to find people frantically packing up boxes, and figuring out for the first time that they need to disconnect appliances. It makes for a confusing, stressful and counter-productive move-out day. But not you. During the planning phase, you allocated 5 weeks for packing. And, more important, you are targeting the completion of packing the WEEKEND BEFORE loading day.
Notice on our timeline that the weekend of July 11 is our target to complete packing, which is the weekend before the planned truck-loading day of July 17. Finishing packing the weekend before the move may be the most important advice that I can give you. Everything in the house will be sealed and labeled in boxes for the move. All the furniture (hutches, dining room table, shelving, bed frames) will be "broken down" into component pieces and ready for moving day. All your appliances will be disconnected and "serviced" for the move. Exceptions include the Fridge, which will remain in use the final week, and perhaps cable TV if you just can't live a week without it.
That final week in your house will feel a little like an indoor camping trip. You can still access your clothing from your dressers, and from Wardrobe boxes. You will also keep unpacked toiletries in the bathrooms for the final week, and for loading day. Either bundle up the dirty clothes for the week, or visit a laundry mat, because the washer and dryer will be disconnected. Try to make a game out of it with the kids. They will think it is cool to sleep on the mattress without the bed frame.
Getting Started for Packing
OK, let's review what we need in place to start packing, and then I will review how we will go about the process. First, let's review some key TABs from the Moving Template spreadsheet that you will need for packing. Make sure you have access to the following (either printouts, or have your laptop computer near your command center):
TAB 2 – Household Furniture Inventory. We will use this to go from room to room to aid in packing, and to record the actual number of boxes used per room vs. our estimate.
TAB 5 – Tools Needed to Pack and Unpack. This will be our checklist to make sure we have everything we need for the packing step. Most of this was reviewed in Chapter 6 already.
TAB 7 – Furniture Disassemble and Reassemble Checklist. You will use this checklist to keep track of every furniture item you disassemble for the move, along with tools used and any loose parts. Using this technique, you will not have any three legged tables, or hutches with missing shelves when you finish setting up at the new residence.
TAB 8 – Utilities Checklist. During the packing phase, you will arrange to have service disconnected on or about move out day. You will also make arrangements to turn on service at the new residence for move in day.
TAB 11 – Credit Card Updates. This is something I have learned the hard way. When your address changes, you have to change the address on file for your credit cards or they will stop working. And if you have automated payments, you have to update those web sites as well. We'll use the packing phase to take care of all that.
By now you should have your checklists in place, you should have a garage full of flattened moving boxes, and you should have your supplies and tools all assembled. The first thing you will want to do is set up the card table "command center." I usually pick the dining room because it is the least used room. I've recreated the picture of my simple command center.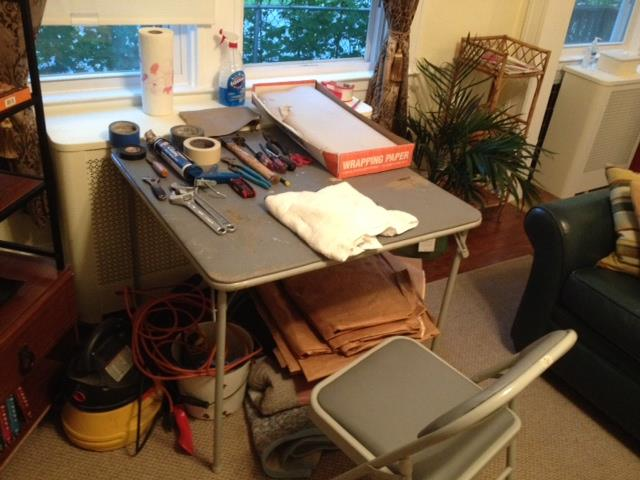 This was the actual command center that I used to move my daughter from her apartment. Notice I have my tools, a vacuum cleaner, wrapping paper, and cleaning supplies. I keep all of this together during the packing phase, so I always know where everything is.
Before we begin, just a word about the "psychology" of packing. You and your family are about to live through a strange transformation where everything you own will gradually disappear from view as it is sealed up into boxes. Furniture will be disassembled, and appliances will be unplugged. You may get the sense that you are "losing" your home, or at least your normal routines. Talk to your kids about the packing phase. Prepare them for living with boxes for a while, and explain that it is just temporary until you move into your new home. Be sure they set aside a week's worth of clothing, books and toys that do not get packed. Also, make moving a family adventure. Have the kids help with packing if they are old enough, as depicted in Figure 7.1.1 below.
OK, so, how do we get started? Taking a look at the Inventory Spreadsheet, TAB 2, we have identified 18 rooms or special areas that require packing. (I counted the 'finished' and 'unfinished' basement as one room). You have allotted five weeks for packing. I would plan the packing the following way:
Week 1: Basement, Garage, Storage Shed, Porch/Deck.
Week 2: Second Floor – 2 Bedrooms, Bathrooms, Linen Closets.
Week 3: Second Floor – MBR & Bath, 4th Bedroom
Week 4: First Floor – Living Room, TV Room, Bathroom, Front Hall Closet.
Week 5: Kitchen, Dining Room and Laundry Room.
Note that the Inventory Spreadsheet is organized according to this proposed five week packing plan. Just change the spreadsheet to reflect your timeline or room configuration.
Leave the kitchen and laundry rooms until the final week so you can continue to use them as much as possible during the month. As you pack up bathroom contents into boxes, leave behind just enough towels and toiletries to last during the packing phase and loading day. You will be surprised just how much "stuff" there is to pack up in a bathroom. Don't make the common mistake of leaving the bathroom untouched until loading day!! (I have seen that many times when helping friends with their moves. Big mistake!).
Make another copy/version of the Inventory Spreadsheet. You will update this version with the actual number of boxes used per room as you progress from room to room. Use your initial estimates to carry the flattened boxes to the rooms you will pack. I generally move the 'command center' to the floor being worked on.
Now that you have planned for packing, the next Chapter's will step you through a five-week process to pack up room by room, floor by floor. Remember, having 5 weeks to do the packing is the ideal situation. You may not have that amount of time. To shorten the timeline, you will need to devote longer hours to packing, but it can be done with the right planning.
Source: Try Moving Yourself! The Complete Self-Moving Guide for a Full Household Move Using U-Haul® Products and Services (2020) John Elie, Author.
The Moving Templates with "TABS" referenced in this Chapter can be downloaded for free from: www.TryMoving.com.